On a Sights by Sam tour, I will not have done my job correctly if you do not learn at least one new thing, if not several, about New York! Taking one of my guided New York City walking tours you will learn more about the history of the city, see sights you may not have known existed, and come away with a greater appreciation of the world's best city. Sights by Sam aims to give you additional and creative insight into the city with as many nicknames as it has landmarks and people. I have been amazed and captivated by all of the activity and energy in New York and through my tours will share with you the same feeling I have when looking at the skyline and thinking of the millions of people who have made the city into what it is today.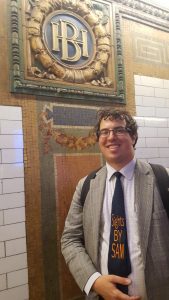 I work hard and take seriously my goal to offer excellent tours, producing unique tour routes that will show you the most you can see in a walking tour within a reasonable amount of time. Tour groups are limited to 18 people or less to let you hear the commentary, be able to ask questions, and allow me to provide more information. Tour start times are scheduled to avoid rush-hour crowds and starting points are for the most part close to public transportation. Similarly, tours end close to public transportation and dining options. Prices at $18 per person (kids under age 6 free when accompanied by a parent or relative) are very competitive with other attractions. And with a few days notice, Sights by Sam has the ability to customize a tour for your group.
Before starting Sights by Sam I worked as an aide on Capitol Hill for two different members of Congress. One of my favorite responsibilities there was to give tours of the US Capitol Building. I felt privileged to show such a historic and meaningful place to visitors. In 2016, I decided it was time to pursue my passion and do what I love in my favorite city, be my own boss, and follow in the footsteps of my family and start a small business. My lifelong interest in history will give you a tour experience that shows the city in context to what you see – so you can know why things are the way they are today. Everything we interact with is shaped by what happened in the past. History gives new life to landmarks, attractions, and even the pavement on the road.
New York is such a large city that it is impossible to see and experience everything worthwhile in one visit — or even one lifetime. This is where having a great tour guide on your visit comes in. Having a knowledgeable guide and a thoughtful tour will enhance your understanding of a new place, allow you to learn new things, and create lasting memories. When you visit New York, whether you are from New Rochelle, New Philadelphia, or New Zealand, I sincerely hope that you will choose to have a tour with Sights by Sam. You have not seen New York until you have seen the Sights by Sam.
Sincerely,
Sam